Play the latest and greatest arcade games, challenge your personal best or compete against friends.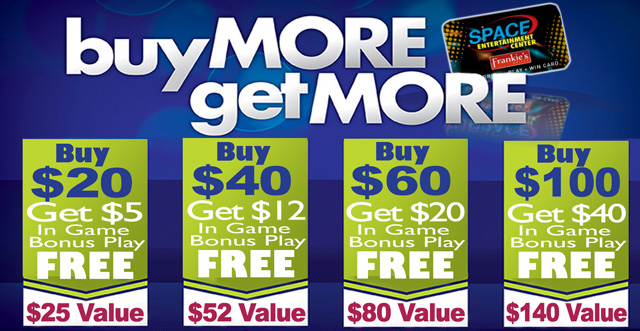 WIZARD OF OZ
Based on the 1939 film that awards token chips and cards that are redeemable for prizes. The player shoots coins into the game which drops chips and cards. The player collects the cards and chips that can be redeemed later for prizes.
HALO: FIRETEAM RAVEN
An enormous 130-inch, 4k screen experience and four turret-mounted, multipurpose machine guns allow four players to fight Covenant troops, spacecraft, and vehicles, encounter the horrifying "Flood" infestation — and save the galaxy in frenetic, explosive combat.
ALIENS ARMAGEDDON
In Aliens Armageddon™ a Xenomorph plague is unleashed on Earth causing apocalyptic devastation. Mankind's only hope for survival is to fight their way to a deep space cargo ship and leave the Earth behind. Aliens features a 55 inch LED cabinet, enhanced gun system, eye catching Aliens topper and four frantic levels of non-stop shooting action, with players battling an onslaught of all new alien enemies.
BIG BUCK 42-INCH HD DUCK DYNASTY
Hunt North American and African game in photorealistic 1080P high definition graphics. Ground Breaking New Live Online Game Features – play against players worldwide.
DOWN THE CLOWN
Players toss balls at the different sized clowns for points, hitting certain clowns adds bonus points as the players attempt to the hit the interactive big bonus. Just like walking the real carnival, Down the Clown incorporates a fun and quirky "carnie" voice that heckles, engages and encourages players of all ages.
SNOW DOWN
Be the first player to fill up your tube with the most snow and win points! Use the Snow Down and Blizzard Button features to fill your tube within the allotted time and win bonus points!
SINK IT SHOOTOUT
Players toss or bounce balls into 10 targets, trying to turn off all the lights – But players must sink a ball in each cup with as few shots as possible – the fewer shots players take, the more points they win!
MILK JUGS
Players skillfully toss balls into the milk jug or surrounding holes to win points The interactive "Carny" voice heckles and entertains players, while they shoot for the Super Bonus by getting all the balls in the jug.
CONNECT 4
Take turns dropping checkers in the grid to try to connect four-in-a-row. Win big points in the bonus round.
BIG BASS WHEEL
Reel in the Fun! Step up and pull the handle to spin the big wheel. When the wheel stops, players are rewarded with points. Big Bass features a funny fishing bloopers and a captivating audio presentation.
CRANK IT REVOLUTION
Pull the handle up and give it a big push down to spin the drum. Get rewarded based on where the drum stops.
SPACE BALLZ
Dean-O the space monkey needs your help! While refueling his space ship, he made a clumsy mistake and spilled JET Cola all over his control panel causing it to go crazy. He needs your help catching the fuel ballz for him to get him on his way and back to cruising the universe.
WEDNESDAY SPECIAL
Play 1/2 price games every Wednesday from open (10am) to close (10pm).
Our all-electronic card system means you swipe to play and accumulate points on your Game Card – no carrying around tons of coins or paper tickets. Redeem your points for an awesome selection of prizes at the Winner's Shoppe, the largest redemption center in New Hampshire.